Join Date: 06-21-2007
Posts: 6
Mentioned: 0 Post(s)
Tagged: 0 Thread(s)
Quoted: 0 Post(s)
Reputation Power:
0
UK Blade stacked it!
---
O.K.what happened?
No real idea really.....i was following a mate and going along a stretch of road that the layout has changed on ie they have placed a big fook off roundabout on a very sweet straight road. First time i have travelled said piece of road in a long time. Roundabout ,came up to the junction slowed and BANG at the entrance to the junction there was a large edge of kerbing stuck out which i thought i had turned to avoid but obviously not. Hit the edge and recall saying to meself shìt! RELAX RELAX RELAX slowly and calmly as i hit the deck and started to tumble along like a spinny thing.
Jumped up and started the normal ritual of ranting and raving at the bike that was sat firmly in the road spewing oil and petrol and smoking away spitting and hissing back at me like it was my fault or something. Some bloke started shouting at me to SIT DOWN SIT DOWN SIT DOWN............well he almost got a slap as i was walking and swearing so thought i was fine really. So pissed off that i had chucked the bike down the road all i could think of was lack of f/c insurance!
BOLLAX!
Took my lid off and sparked up a ciggy as you do only to turn and see that this guy had already called 999 and got the fire crew and Ambulance on the way.
1 of the guys that i was riding with looked more shocked than i did to be fair so i asked him if he was alright.
Turned out i had smacked my head against the kerb as i was upside down flying off the bike as it scooted off without me. Well anyways short story long Morrisons Juggernaut blocked the traffic both ways till the ambulance got there and had quite a few passers by stop get out and come see if i was ok which was very touching as it seemed genuine concern.
Paramedics insisted i got a neckbrace on and got slapped and strapped and taken off to hozzy which i was refusing in a very disgruntled manner as i wanted to head back home to go get the kids from school. So after a bit of coaxing i got taken off to hozzy and spent 3 hours strapped to the back board and neck brace and being left. Few X-rays later and the all clear on the spine and neck but i had discharged meself before the foot one came back as i had already had enough at this point and if my foot was broken then gimme a call on the mobile i'll come back in tomoz.
It is not broken i do not think just nasty bruising.
Just sore beaten bruised a few cuts and sore places and hoping the morning will not bring lock down on moving parts.
The bike was picked up and as you can see looks a bit worse for wear and already got a mate stripping it down to have a look at all the bits that have survived.
Forks look twisted
Deffo need a new rear wheel
Frame looks ok
Plastics are royally screwed
Screen and new levers and left hand switch gear required for sure.
Left rider footpeg and maybe a few other bits and pieces
Headlight of course!
A new lid for deffo as well .
Leathers are pristine apart from the dirt and boots are sweet as well!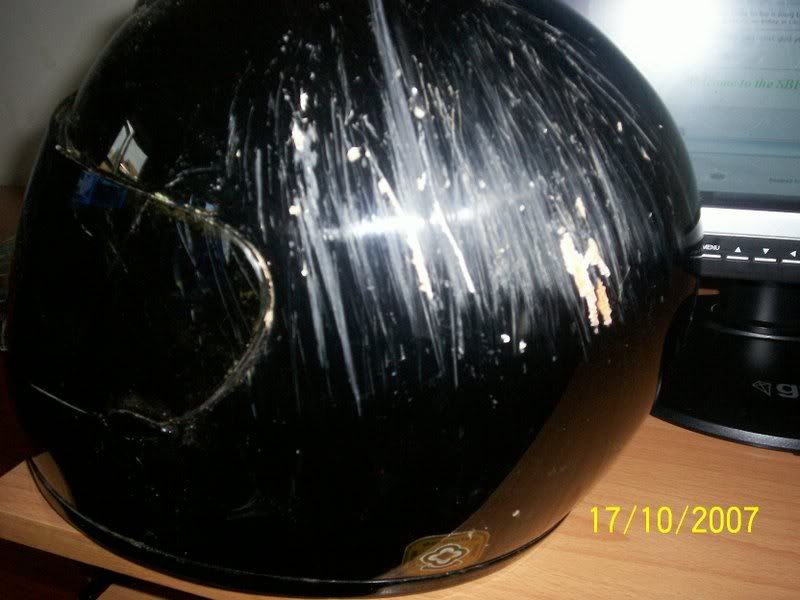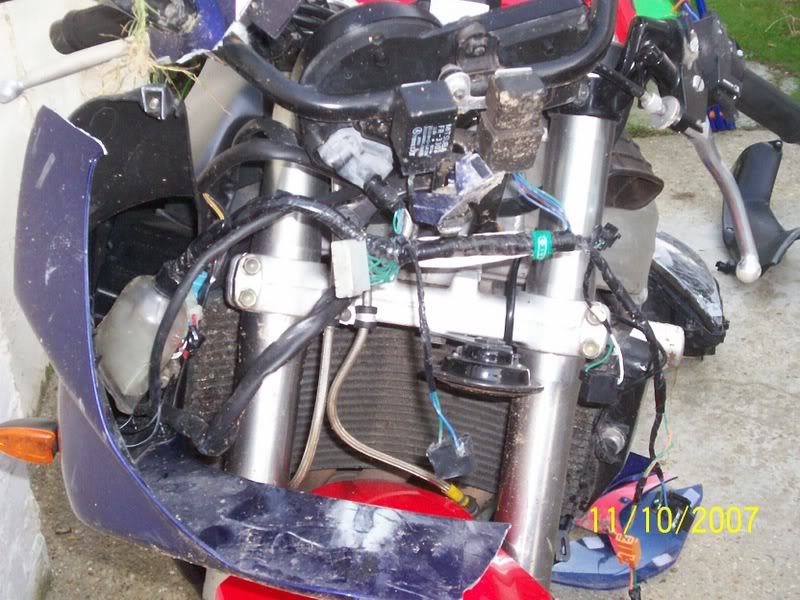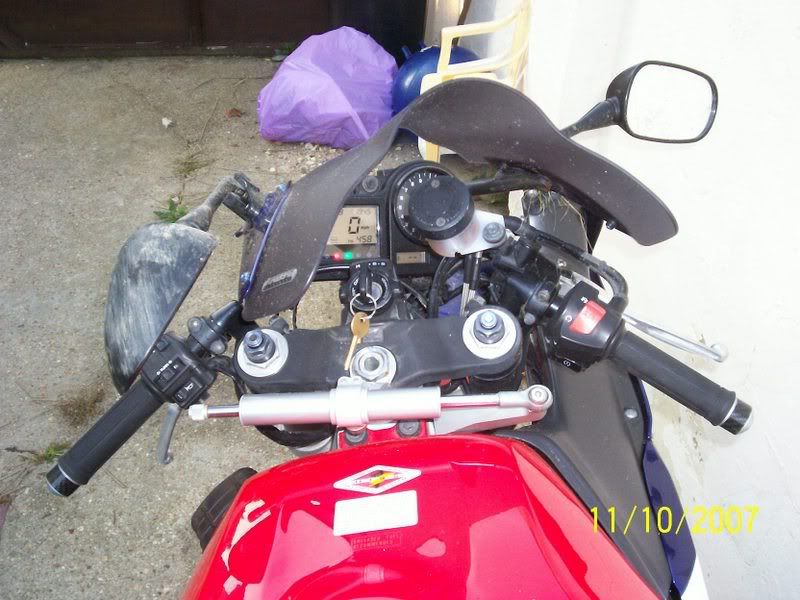 Lookin for bits and bobs if any of the UK side lads n lasses have anything going!
No limp anymore and back on track with me health wise its just the bike to sort out now!
Damn lucky to walk away!
Careful out there its a jungle!
Join Date: 08-05-2007
Location: KY
Posts: 1,730
Mentioned: 0 Post(s)
Tagged: 0 Thread(s)
Quoted: 0 Post(s)
Reputation Power:
37
Re: UK Blade stacked it!
---
Its just good that you survived pretty much ok... You must of had this
! good luck getting the bike back togther...
Lower Navigation
UK Blade stacked it!
Posting Rules

You may post new threads

You may post replies

You may not post attachments

You may not edit your posts

---

HTML code is Off

---