Discussion Starter
•
#1
•
Hey guys, new on here, picked this bike about a little under a week ago. Needs a few things cosmetically and mechanically, and I'll be working to take care of that. The bike runs great and I'm going to do as much of what's needed as fast as I can. Delays for parts accepted, but nothing other than that. It's easy to do since it runs and rides so well now though.
I love the purple
. I still want a Honda red and black scheme, big time. But that purple is awesome in my book, even though the camera is trying desperately to turn it blue. The wheels are…interesting. Going to be a pain to keep clean (filthy in pics). But they provide a nice contrast. Dad's sold on them because they're a smart safety feature… :lol: even though the seller basically said that's not why it was done... :smilebig:
It has low miles, which is what attracted me to it, along with the price and proximity (only an hour away, almost too easy. I'd looked into shipping them).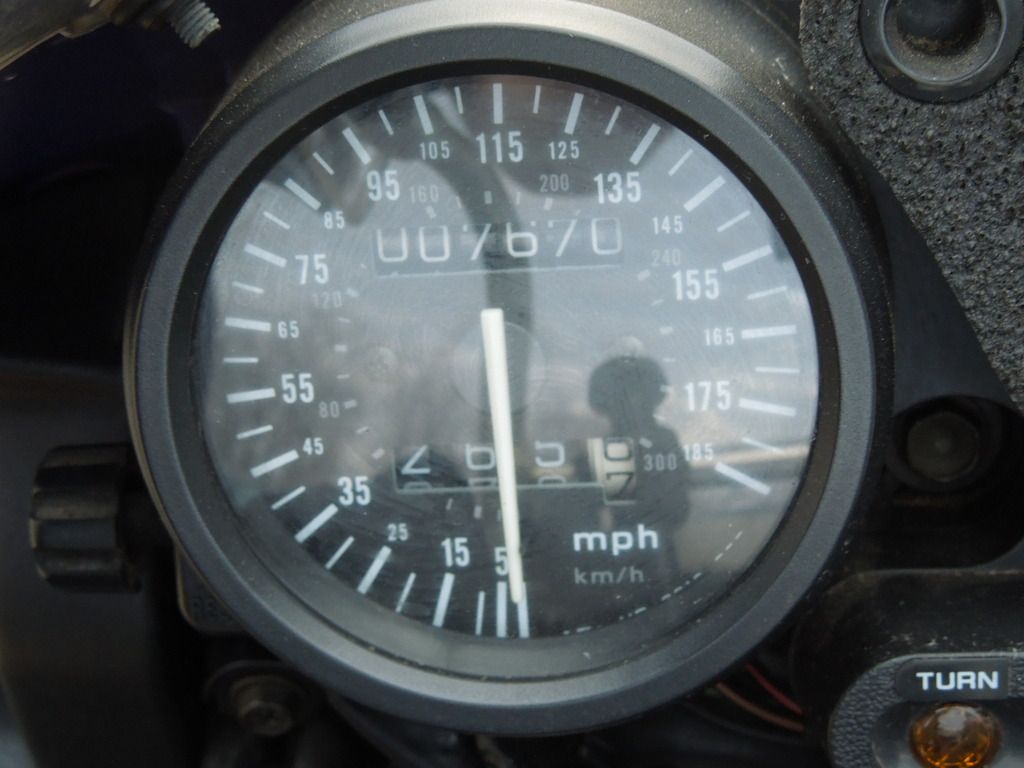 Was after a 954 originally, but since I wasn't ready to pull the plug in the winter, summer prices made me balk big time. The mileage can go up 50% from winter prices and the price goes up 30% too. Didn't want that.
A test ride of a local 954 showed me that the response of an f.i. bike is not something to be taken for granted, when coupled with lots of power, in the rain (and coming out of a corner). This is still pretty snappy, with carbs. Just mitigating risks a little...
Recent maintenance/mods before I got it
:
-Oil Change
-Chain conversion to 525 (from 530) with an aggressive change in sprockets, imo- 16/43 stock, now 15/47. Speedo is about 20% off in total. Strange to be doing an indicated 95 on the freeway and be getting passed…
-Wheel bearings, front and rear (red flag with the miles it has, wondering if the wheels were from a j/y. Going to pull them and see how it looks.
-Tires supposedly new as of last year. Date code is end of 2011. Enough tread left for this season for sure, and no cracks or anything showing.
-Two brothers "custom" shorty exhaust- they cut the muffler in ½, and removed ½ the packing. I was under the impression initially that it was a full aftermarket exhaust, but I'll have to check to be sure. Don't want the sound to be obnoxious at high speeds, so I may need to mod that or get something different.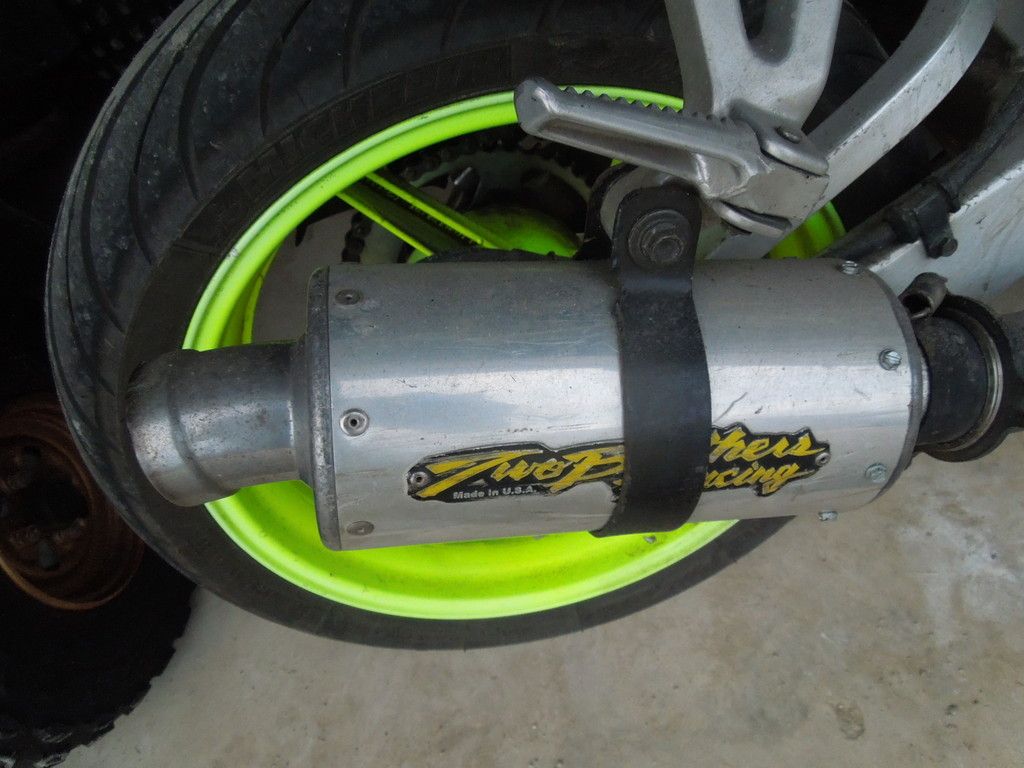 Things it needs/I don't like
:
-
The rear cowl/tail fairing on it
is…uhh… ugly and doesn't match? He didn't like the stock one, so he put that on for the heck of it, supposedly? He gave me the rear pieces though, except I think I'm missing something.
Feels a little fishy to me, wondering if there's some accident history I don't know about/ couldn't see there. But the stock piece is in better shape than what's on it, and matches nicely too. Will add pics of that soon.
-
The seats
. Both need to be recovered. Like many stock seats, it is joked about as a piece of wooden nylon. But I'm not going to spend good money to recover it and leave the factory foam in.
For anyone considering redoing their seat
- Call Sargent. Not listed on their site, but available, is the actual foam they use in their seats (Super Atomic Cell Foam). They sell it in rolls, as opposed to it being injection molded on their products. $20/sq ft for the thicker stuff (1.5"), $10 for the thinner stuff. (1.2", iirc).
Thought it was cool that I can buy their materials; they don't tell you that on their site though and Corbin doesn't offer that at all). Their turnaround time is pretty slow in the summer. When I'm ready, I don't want to miss a month waiting for it. Also, if you have a good local upholstery shop, you'll likely end up saving money overall too.
-
The gearing
- It's got sufficient power for me on the low end stock, I think. A smaller front tooth is harder on the chain, harder on my brain to figure out how far I've really gone since my last gas stop, and I wouldn't mind lowering my freeway rpms a tad (around 6k at ~75mph).
-
Fuel petcock
- The tab or something is broken off, Can't actually turn it from ON to anything else. Will post a pic tomorrow. I especially dislike a lack of reserve at the moment since I'm still figuring out how many miles I've actually gone.
-
Fuel pump
(these early models actually have one, albeit simple) is secured to the frame with what my southern friends tell me is an "engineering strap," known elsewhere as a zip tie. It's a solid one, and I have no fears of it letting go, but I really don't like the implication that its original mount broke or…?
Didn't notice that before the purchase, fairings hid it from me a bit, definitely my fault though. Forgot this model had a fuel pump and wasn't looking for that at all.
That gave me my first serious bit of buyer's remorse, as that, coupled with whatever happened to the tail fairing made me wonder if the miles were wound back. But it seems to be in good shape overall and pegs don't seem worn. Engine doesn't seem tired/leaky either.
-
Scrapes
on the right side fairing. Not sure if I'll repaint it to match and order a decal kit or go through a source to get an oem fairing cheaper and go from there.
-
Taillight
- is a poor excuse for something aftermarket. Clear lens with red led's instead of white led's with red lens. Not very visible in direct sunlight. Going to change that.
Going to be flushing the brake fluid, coolant, lubing cables and all pivot points, clean caliper assemblies and grease everything, look for screwy wiring (like tail light), check fork oil (seals seem good) and eventually pull wheels to check the bearings (new one's good, too much heat used, etc), need my manual to get here first.
Recommendations Needed:
-Sprockets- There are charts on gearing commander and such, but I'm trying to find the limitations of what will fit my chain. It's a 525, so I know the pitch and roller width (5/8 and 5/16, looked it up). To find out what sprocket sizes will fit, do I need to find out like the sprocket thickness and see what fits on the chain? Where do I get that info? I'd like the 16 tooth front back on and as close to stock on the back as the chain will allow for.
I need to do some reading on this, but any preliminary suggestions on chain care/maintenance products? The 650 really spoiled me; I did the final drive oil annually and that was it. No brushes, waxes/lubes, etc. Lots of learning to do here, and way more products to sift through than I care to or know how to do. Looking at PJ1 Blue label and a few others.
What other things should I be looking over? Will a 96-99 manual work for most of these things for now?
Looking for a how to on the coolant, just to make sure I pull the right bolts off the water pump, and want to see if anyone else uses a mix of vinegar and distilled water to flush it out a few times.