Discussion Starter
•
#1
•
Matt Behning here.
Posting some info about my test that helped me to best chose the right type of Carbon Fiber (CF) Cloth before starting starting my next CF project.
This CF experiment may help you:
1.) decide the type of CF weave you may want/need for your project
2.) decide how many layers of CF you many want/need for your project
Internet videos abound telling us all about how to make things out of CF but they don't explain with much evidence how many layers you might need etc. If you google strength tests of CF layers you get crazy college papers barely written in English with all the big words and testing with units of measurement we've never heard of.
The other DIY guys who do have this and more knowledge tend not to post it for fear of possibly creating knowledgeable competition. Because all of us believe we're just a carbon fiber part away from creating a piece that people will pay hundreds of dollars for
Here I'll explain with pictures my data. In a later thread I'll share with you how to make a high quality vacuum formed part out of carbon fiber for about $200. Vacuum bagging is the gold standard in getting the best/strongest end product, as opposed to "free lay up." Which is saturating the carbon fiber cloth the best and most even you can, without adding too much weight in excess resin; avoiding trapped air bubbles; getting the wetted out cloth to conform to the mold with gravity; on and on problems exist when you attempt to save time and effort by not using vacuum bagging.
The test pieces I made were made using the professional industry standard of vacuum bagging, (but in my budget method

First thing to understand is there is some basic Carbon Fiber terminology to know before you buy. (not official, just my understanding):
1.) Never buy anything except the PAN manufacturing process (pitch process is less quality)
2.) Never buy CF that doesn't come on a roll... usually they come on rolls 50 inches wide and can be purchased by the yard... average price is $20-25 a yard that is 50 inches wide. Folded or remnant fabric left over from other people's projects is just a gamble.
3.) Pre-preg carbon fiber- is great. However it needs to be stored in a freezer because the resin pre-infused CF cloth will cure at room temperature eventually. (can be shipped to you at room temperature fine). ALSO, you need an oven big enough to bake your part in on a mold that can tolerate up to 500 degrees... take away: leave pre-preg CF for the pros that make lots of parts from expensive molds in big ovens.
4.) Weave- that is the orientation the groups of tiny strands of carbon fiber are arranged in when the manufacturer produces the "cloth" sheet of carbon fiber. Not all weaves are created equal (as you will find out in my research).
For example there is:
Twill: the classic "carbon fiber look"ie: 2x2 twill ... that means two bands of CF are patterned next to each other in the weave (I test 2x2 twill) (On the right in below pic)
Plain: that is the classic checker board looking weave... I also test this pattern. (On the left in below pic)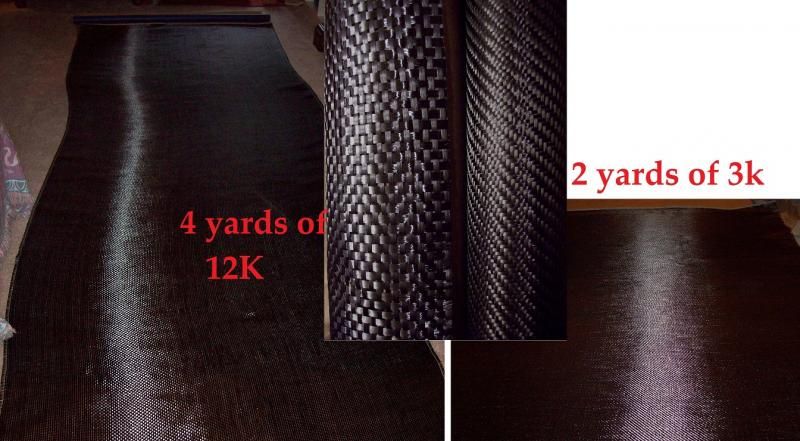 5.) Tow- that is talked about in "k" or thousands of units. I test 3k tow (2x2twill weave) CF that means there are 3,000 filament strands of CF in each thread group of CF that is being weaved. I also test in this experiment 12k tow (Plain weave) that means there are 12,000 filament strands of CF.... naturally the higher the tow, the thicker the fabric will be... but as you will find out in the testing... that doesn't mean it'll be stronger. See the picture of the ebay seller I bought from and the two fabrics I purchased from them: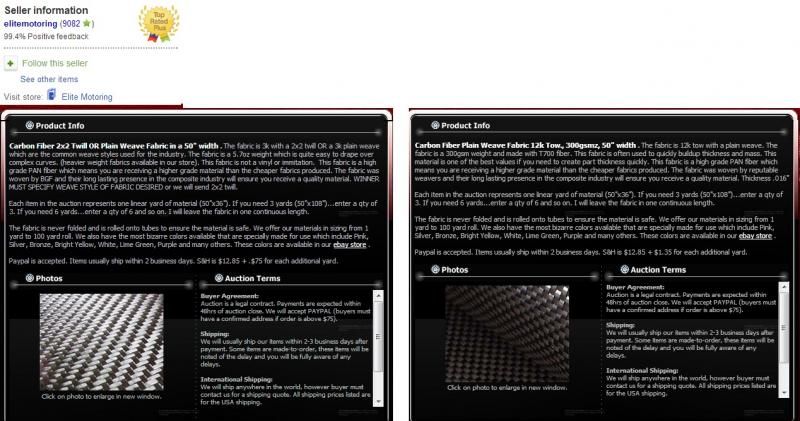 6.) weight or GSM- it goes up with the higher the tow and better weave you buy. My 3k tow 2x2twill weave has a weight of 5.7oz per yard squared If I wanted to pay 30% more I could get an even tighter plain weave from Hexcel with the same 3k tow strands weaved in a product that is 5.8oz per yard squared. these two 3k products can be converted to a weight of about 200 Grams per Sq meter. The 12k product I was using is 300 GSM.
7.) Resin- is the liquid product you mix with the supplied hardener that cures (without the need for air, because it doesn't dry). Usually a 2:1 formula. Google it if you want to know more. The main thing you need to know is that you should buy epoxy resin
as opposed to cheaper polyester resin that is available at the hardware stores. Epoxy has superior strength, UV light protection, and clarity. You get what you pay for with resin so do your research. I used "Max Clear 1618 epoxy resin" I've also used "Max Clear High Performance epoxy resin"... but the 1618 is slightly more fluid and much better for vacuum bagging since it soaks into the CF cloth the best. "Max Clear HP" is best for those doing free lay up because its less likely to pool down to the bottom of the mold. More about it on the how to make a CF part thread.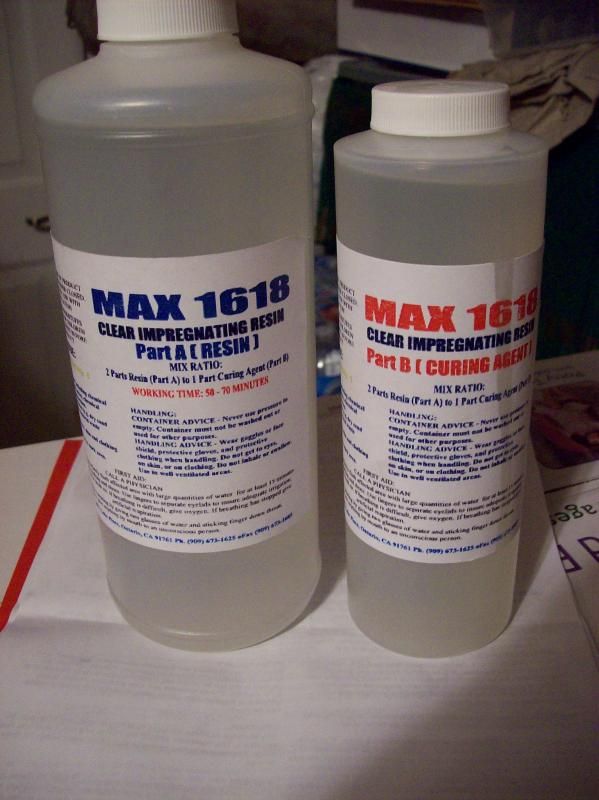 This is just the Test info thread. Click on the link and they have TONS of good info on the product link (second from top)
Welcome to Polymer Composites Inc. Product Categories
More terms can be found on the two main manufactures of CF for the commercial DIY:
Hexcel.com - Glossary of Carbon Fiber and Composite Terminology
Toray Carbon Fibers America - Carbon Fibers and Composites Terminology
I come to you with this experiment after completing basic experiments like this: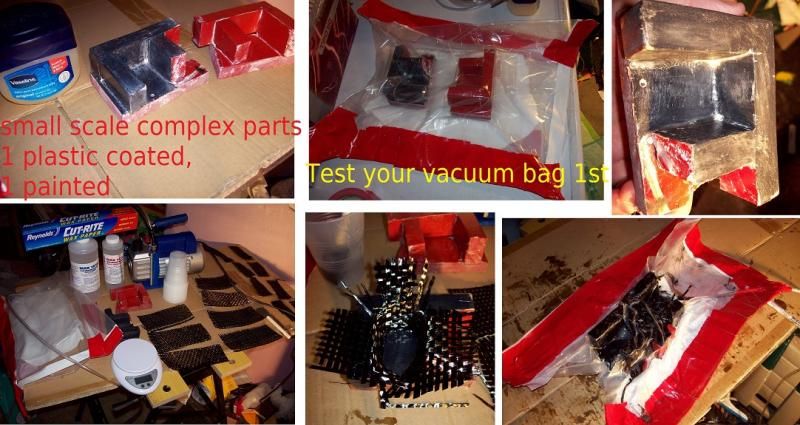 That Vaseline is NOT a good mold release: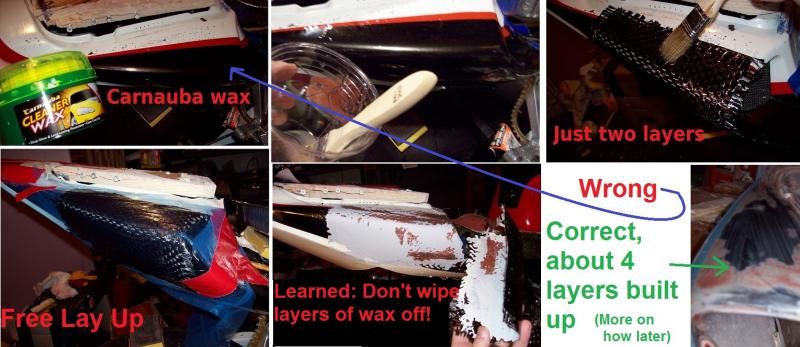 And making these couple two piece parts: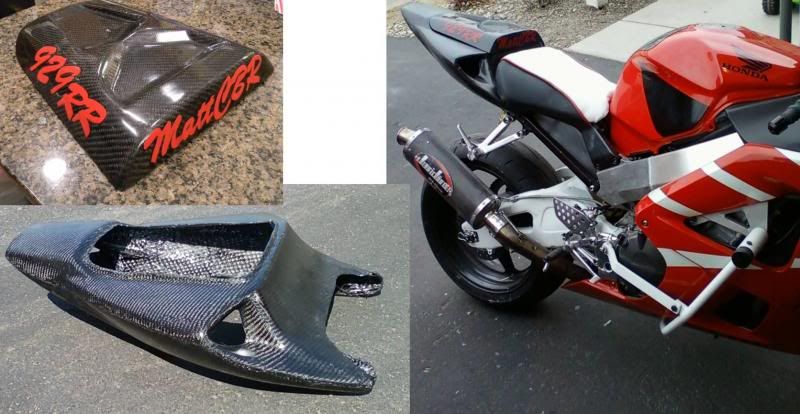 Plus lots of messing around with free lay up etc wasting CF and epoxy to self teach myself:
To create 3 of each test piece of different layers and components that looks like these: