Discussion Starter
•
#1
•
I'm new to the fireblade forum but I thought for what it's worth I would pass along my experience with a product.
I purchased a used 2008 CBR1000rr from a friend with about 600 miles on it. I wanted to go on a multi-state trip with friends from Washington through Oregon, California, Nevada, Utah, and Idaho.
I looked online and found a local business called
Ventura
something or other. I also bought a rack and bag with it and the picture is attached.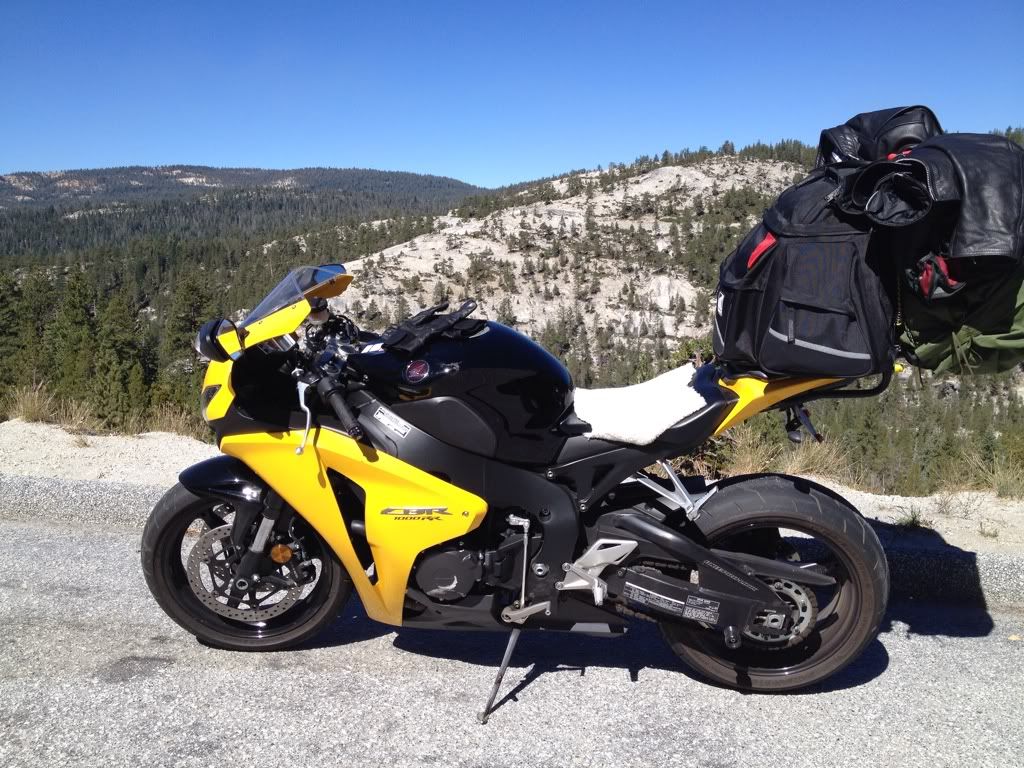 The system begins with two L-brackets which bolt up underneath the rear seat with included bolts. The rack is separate and can be purchased as a smaller sport-rack or a larger luggage rack (which I bought). The rack system performed perfectly and allowed my friends and I to traverse some beautiful landscape in style (for over 3200 miles). The bag was about 30lbs loaded and I placed an additional sleeping bag and camping mat on the back (of the rack). The rack is secured with two screws with grippy circular things on the rear to affix the rack to the L-brackets. These would occasionally loosen if I did not have the rack secured in place and tightened with the little tool that came with it. I rode for about 11 hours the first day and the tightening screws were only slightly loose. The rack was not displaced or loosed from the L-brackets.
The bag was also waterproof and survived a couple rainstorms, and even one hailstorm in northern Nevada of all places without dampening a single piece of clothing.
Other than that, I am stoked that I can ride my CBR AND load up with about five days worth of clothing, shoes, camping gear, and a few miscellaneous items.
I think I paid around $400 for the L-brackets, rack, and bag. I highly recommend it. My friends all had touring bikes with hard-luggage but they all thought my setup was pretty awesome. I was very pleased with it and would recommend it to anyone looking to ride a superfast streetbike and carry lots of stuff.
BTW - I am not an employee of the company I just had a good experience with it and thought I'd pass it along.