Discussion Starter
•
#1
•
Hi All,
First post, this appears to be a relatively active site covering Honda CBR's.
Well, I used to own a "Baby Blade" I think it was NC29, I moved far from the city but had to commute 100k's a day on it -
Wanted the Teal one, next time-
so upgraded to a 2000 VFR800 which was awesome.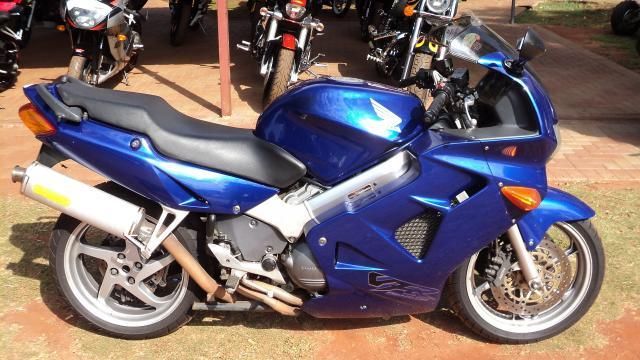 I am a big fan of Yamaha 2 strokes from the 80's with an RZ350 RD350LC & TDR250 but when this 1999 CBR900RR came up with 29000 k's on it for 4.5k I had to buy it.
So, as you would expect, the rear shock is knackered, clean but not damping, as well as needing a new spring more suitable for my weight.
My first question to the brains trust is about an offer made to me by Promecha Suspension in Melbourne Australia to install an "Squat Control Valve" along with a rebuild.
What does this thing do, how does it work and where does it go?
Is it worth the money?
Is it someone other companies technology re-badged?
Is it worth the money do you think?
Below is a link to their web site as well as some excerpts from correspondence between myself and their rep via email.
Motorcycle Suspension Products, Equipment, Services, Mods and Upgrades
----- Original Message -----
From: greasemeup
To:
[email protected]
Subject: Please include:- Bike Make, Model, Year, Application/Riding style, Rider weight, Pillion weight, and Details of your riding needs
Hi,
I am looking to get springs more suited to my weight for a 99 CBR900RR, I am 120kg and ride recreationally on the street with no pillion. I want to have a well balanced bike with correctly set up sag and damping.
The bike comes stock with progressive springs, I am under the impression that using linear springs simplifies setting up damping. I will refresh the oil with the new springs.
I am sure that changing to linear springs in the forks, whilst being initially harsher, will not produce any other issues.
I am not sure that changing to a linear spring in the rear shock will be OK, I am under the impression that there are linear linkages on my bike that match the spring. I tried reading your technical document on linkages but my brain just cant put it all together.
Can I ask your advice on what type of spring to go for on the rear, what spring rate and how much one would cost shipped to Brisbane 4053.
Regards,
Greasemeup
_______________________________________________________________
Peter
Your cbr 900rr has too soft a fork spring rate for best control, you can verify this by checking spring sag (
Motorcycle Setup Method
).
The forks soft compression damping settings can`t control dive properly & yet have a harsh feel on square edged bumps. The rebound action is also too soft (in sync. with the compression) losing traction feel and stability especially when cornering. When we re-valve sports/road bike forks we change comp. & rebound damping rates & install a dive control circuit. This gives best control & traction feed back under brakes & turn in, without harshness.
The shock also has harsh compression damping without sufficient range, rebound also lacks range (too much, hi speed wheel travel, damping) which ruins any chance of a confident compliant feel. Old tired oil will fade quickly & reduce stability & the shocks damping rates. The std shock has little internal squat control, making the bike run wide on corner exit. The shock spring is too soft for your weight (check sags).
To get the best sport/ ride day feel we recommend, a fork re-valve, shock re-valve ,including our dual function squat control valve, fork springs & shock springs to suit your weight , bike & application.
FORK
OPTION#1
Service $155 full strip clean, incl.Seals & tube polish $40 = $195
OPTION#2
Revalve comp.,reb.mods & dive circuit rider matched $290 (incl. service,seals)
Springs …….....To suit rider weight, bike& application $195 pair
SHOCK
OPTION#1
Service ………….full strip re-oil & re-gas$140
OPTION #2
Revalve comp/reb mods. $210(incl. service)
Squat Control Valve controls squat & broad range Reb.damping rate, set up to suit each bike $65
Springs …………..To suit bike & rider combinations, progressive & linear $190
Please call for more information or booking times
Rgds Peter
ProMechA Motorcycle Suspension
________________________________________________________________
From: GMU
To: Promecha
Peter,
I am curious about the squat control valve you mentioned. Where does it go on the rear shock, does it replace the existing compression valve adjuster? It appears to be an up-rated compression valve, does it simply extend the range of adjustment over the existing compression valve?
part of the rebound system fitted internally
Have you done any squat valves on similar bikes that I can speak to the owner about/
Idon`t release anyones details
Regarding shock, after the spring replacement at $190, a service at $210. gets all parts needed including re valving to suit rider weight, spring & style. Are there any other potential costs?
yes unable to advise until shock is apart
Just to confirm, the re-valve on $210.
yes.
service will increase the valving adjustment range or just ensures that the adjustment range available is useful?
no, it is only a service
Regarding shock spring - "progressive & linear $190" means both are the same price?
yes
To answer my original query, there is no issues with changing from progressive to linear as a result of linkages on my bike?
no
Cheers,
Greasemeup..
_______________________________________________________________
Many thanks
GMU..